The exhibition

Black Sound White Cube



The exhibition

Black Sound White Cube

will present works by ten international artists that refer to the musical traditions of the Afro-Atlantic diaspora. Black Sound White Cube thus seeks to trigger discussions off the beaten track of the hegemonic fields of avant-garde and pop.

Black Sound White Cube

is based on the eponymous book by German artist Ina Wudtke and Belgian philosopher Dieter Lesage published in 2010. The central proposition of the book is that the white cube not only looks white but also sounds white.




In its history as a hegemonic form of presenting art, from the 1920s to the present, the white cube has only hesitantly opened itself up to black sound. At the same time, forms of expression, contexts and languages of traditional white music scenes were and are integrated in the context of art without problems. From rock, punk and new wave to experimental noise avant-garde, everything is represented in leading contemporary shows. In face of an art that makes reference to the (musical) tradition of the Afro-Atlantic diaspora, contemporary Continental European art still appears to be speechless, words are missing as well as the cultural reference.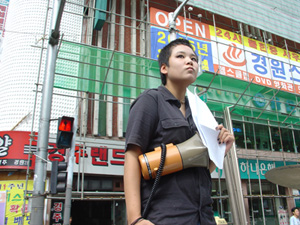 Minouk Lim, New Town Ghost, 2005, video still

In the Continental European context, it still seems difficult to grasp a beat as complex avant-gardes, as during the Harlem Renaissance of the 1920s with the invention of syncopated swing rhythms. And yet the discourses of black sound and fine art overlap in manifold ways, as is demonstrated by the works of an entire generation of contemporary artists. The exhibition Black Sound White Cube, curated by Ina Wudtke and Dieter Lesage, shows works by Sanford Biggers, Sonia Boyce, Nate Harrison, Jennie C. Jones, Minouk Lim, Yvette Mattern, Robin Rhode, Nadine Robinson, Maru_a Sagadin, and Ina Wudtke. Black Sound White Cube will be on view from July 10, 2011, through August 28, 2011, at Kunstquartier Bethanien / Studio 1, Mariannenplatz 2, 10997 Berlin, and is funded by the Hauptstadtkulturfonds (Capital Cultural Fund).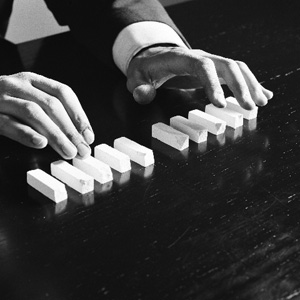 Robin Rhode, Keys, 2008




The curators of the exhibition

Black Sound White Cube





Dieter Lesage,

born in 1966, received his doctorate in philosophy from the Universiteit Leuven (Belgium) in 1993. He is Professor at the Department of Audiovisual and Performing Arts (Rits) of the Erasmus University College Brussels and at the Vrije Universiteit Brussel. Together with Kathrin Busch, he has edited, among others,

A Portrait of the Artist as a Researcher.

The Academy and the Bologna Process

(Antwerp, MuHKA, 2007). Dieter Lesage has been living in Berlin since 2006.


Ina Wudtke,

born in 1968, is an artist and DJ. She studied art at the Hochschule für Bildende Künste Hamburg (University of Fine Arts Hamburg) as a student of Bernhard Johannes Blume, among others. She has been living and working in Berlin since 1998. Ina Wudtke and Dieter Lesage curated the exhibition

A Portrait of the Artist as a Researcher

(MuseumsQuartier Vienna 2007, Beursschouwburg Brussels 2008).