Das Rahmenprogramm der Ausstellung
Black Sound White Cube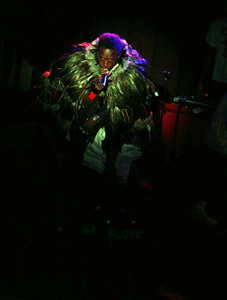 Saul Williams aka Niggy Tardust performing in the
Ghettobird Tunic by Sanford Biggers

Sonntag 10. Juli 2011
16 Uhr:
Sanford Biggers' Ghetto Bird Tunic Piece.
Eine Performance mit

Satch Hoyt

(Berlin)

17 Uhr:
Künstlergespräch mit

Sanford Biggers

(NY)

18 Uhr:
Künstlerinnengespräch mit

Nadine Robinson

(NY)


Freitag 29. Juli 2011
18 Uhr:
Vortrag von

Valerie Cassel Oliver

. Valerie Cassel Oliver ist senior curator am Contemporary Arts Museum Houston. Sie kuratierte verschiedene Einzel- und Gruppenausstellungen, so wie Double Consciousness: Black Conceptual Art Since 1970 (2005), Black/Light/White Noise: Sound and Light in Contemporary Art (2007), und, mit Dr. Andrea Barnwell Brownlee, Cinema Remixed and Reloaded: Black Women Artists and the Moving Image (2008/09). Sie war director of the Visiting Artist Program an der School of the Art Institute of Chicago. In 2000 ko-kuratierte sie die Biennial for the Whitney Museum of American Art. Im 2011 hat sie den David C. Driskell Preis des High Museum of Art in Atlanta bekommen.


Samstag 27. August 2011
18 Uhr:
Vortrag von

Franklin Sirmans

. Franklin Sirmans ist Terri and Michael Smooke Curator und Department Head Contemporary Art im Los Angeles County Museum of Art. Von 2006 bis 2010 war er Curator of Modern and Contemporary Art in der Menil Collection in Houston, wo er verschiedene Ausstellungen kuratierte, so wie NeoHooDoo: Art for a Forgotten Faith. In 2007 bekam Sirmans den David C. Driskell Preis vom High Museum of Art in Atlanta. Er veröffentlichte in The New York Times, Time Out New York, Essence und Grand Street. Mit Lydia Yee kuratierte er 2001 die Ausstellung One Planet under a Groove.

19 Uhr:
Künstlerinnengespräch mit

Sonia Boyce

(London)
Die Vorträge und Gespräche finden in der Ausstellung statt.